During the Christmas holidays In 1960 my brother took me to the Racing Car Show at Earl's Court.  On the BP stand there was a film running: "The Right Line. An Introduction to Motor Cycle Sport".  The opening shot has Bob Macintyre on a 350 Manx Norton sweeping out of Cascades at Oulton Park, cutting to an onboard camera to see what he is seeing, over his shoulder.  This onboard camera would have been a substantial 16mm. camera, not a dinky camcorder; years later I watched the film with a professional TV cameraman who was simply amazed at what they had done.
I decided that motorbikes were very interesting.  Soon after I changed my monthly magazine from Air Pictorial to Motorcycle Sport.  The slight deafness in my left ear can be attributed to my pursuit of this interest, but I don't regret it.  Here I am with my Mum and Dad about 1986; from my Dad's gesture, I must have the engine running:
Besides such matters, around this time Keele University was sending lecturers into schools to make presentations that would give school students some idea of what university teaching was about.  I gave talks on motorbikes, specifically, the decline of the British motorcycle industry, prompted by Bert Hopwood's interesting book on the subject.  The gist of the talk was that, so far as practical innovations went – from the swinging arm, the triangulated rear end, the cradle frame, the engine as stressed chassis member, to step-throughs, scooters and trikes – it was British firms that had been in the forefront of development.  BSA, for example, had in the early 1950s designed and built a modern 250cc. four-stroke racing twin that was rather like the Honda 250 of the mid-1960s.  But they continued to produce and sell a 250cc. single that had been a poor bike in the 1930s.  And so the argument was that, far from Japanese competition marking the death knell of British motorcycle production, the industry had largely organised its own its demise.  Subsequently of course the domestic car industry followed suit.
It seems to me that there is a lesson there, but I have never seen much in the way of informed discussion of the problem.  Nor do I intend to speculate upon it here.  Instead, I want to go back to the starting point of my presentations to schoolchildren all those years ago: why is it that, from an engineering point of view, modern motorbikes are little more than motorised safety bicycles circa 1890?  The same basic layout survives in the modern bicycle, international racing regulations having vetoed serious innovation in the design of road bikes; but why should a powered two-wheeler stick with such an inefficient and problematic layout?  When you see riders on a track hanging off the sides of their machines during cornering, they are simply compensating for a design flaw in their machine that can be resolved; so why persist with the flaw?
To be going on with, here are a couple of images related to bikes I love.  The first, from the mid-1980s, is the 600cc. Ducati motor at the Sports Motorcycles workshops in Bollington.  This is where I went with my own Ducati when I needed some work done, it was only about 30 miles from Keele.  I recall one winter riding over on my XT with the Ducati cylinder heads and Steve Wynne reshimmed them for me while I waited.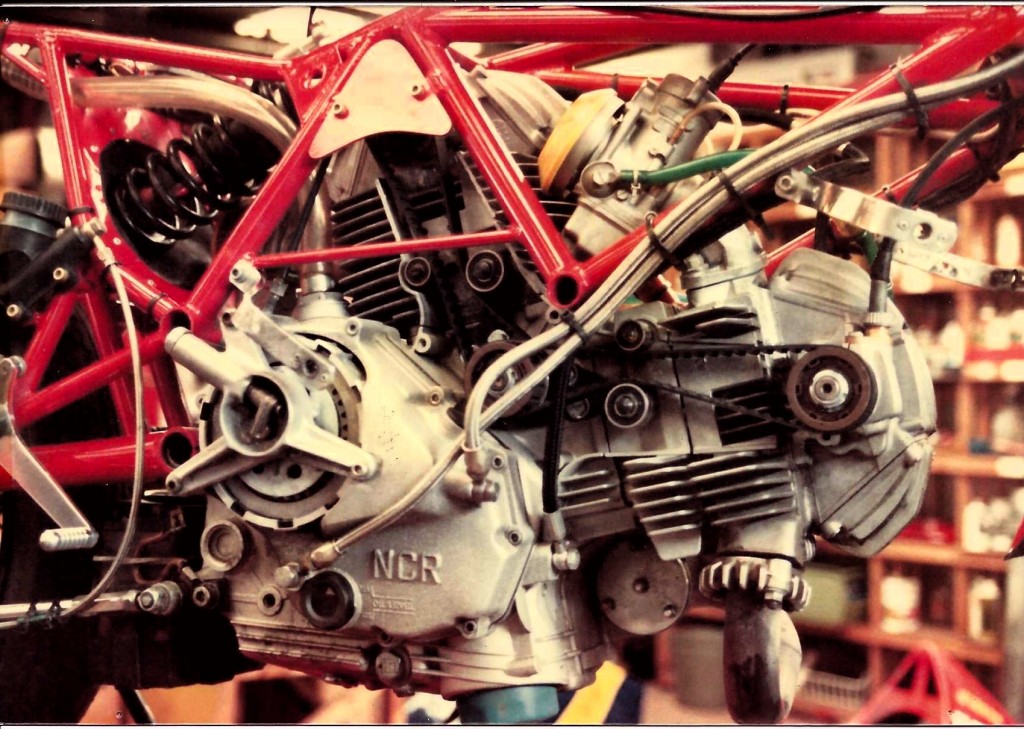 The second relates to the Velocette 350 I was building at the time.  For this, I went to Ralph Seymour in Thame.  His workshop was a perfectly-organised jewel box; my finished motor is sitting on the bench at the right.